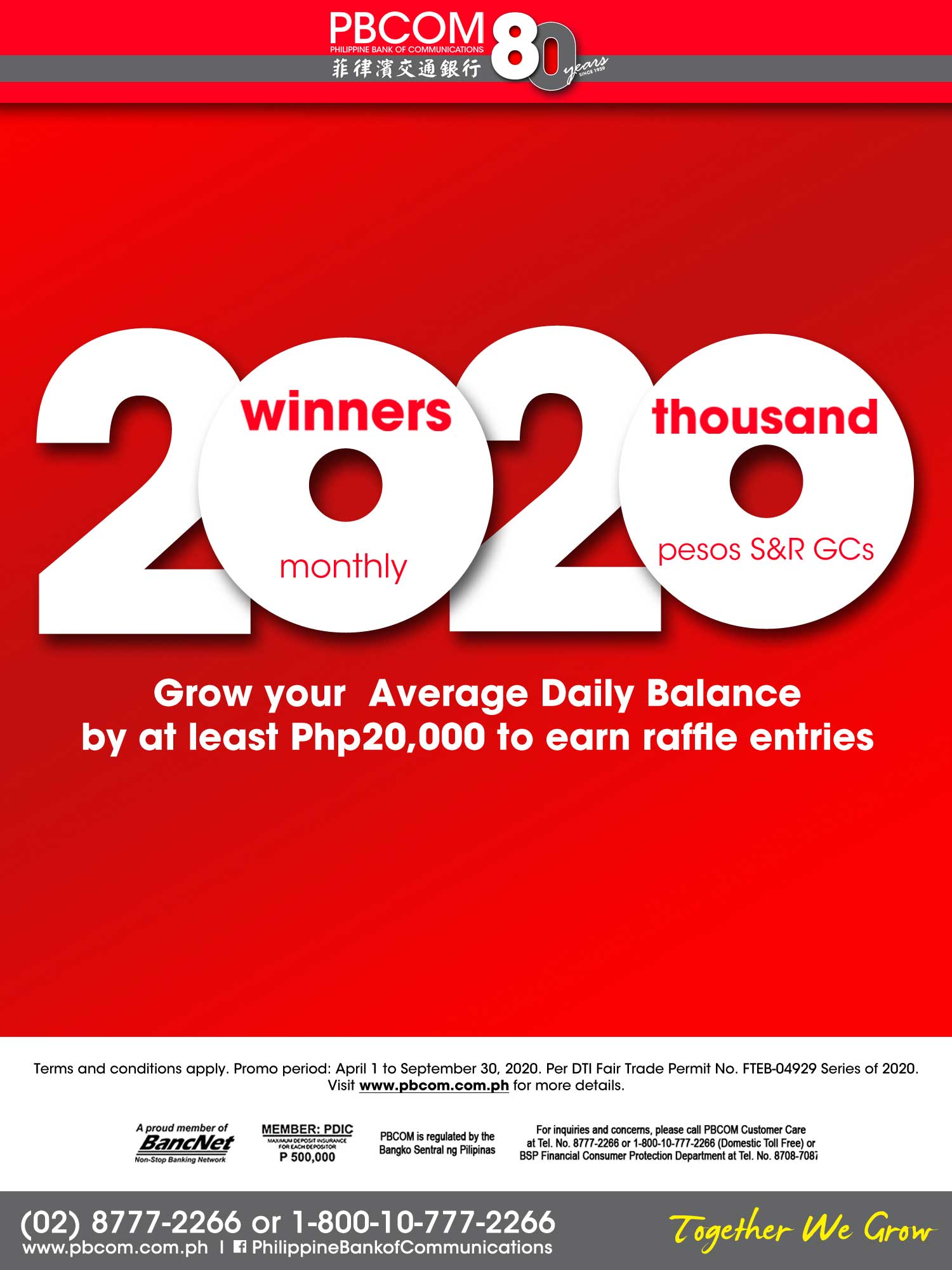 PROMO MECHANICS
Promo Period: April 1 – September 30, 2020


 

Participants: New and Existing Individual Clients of PBCOM


 

Participating products:

Product Type: Starter Account, Quick Cash Account, Regular Savings Account (Personal, Payroll and SSS Pensioner), Regular Checking Account (Personal and Payroll), Value Check Account Personal and IntegrALL Personal.  Foreign currency deposit accounts are not eligible in this promo.

Minimum Deposit Requirements:

Initial Deposit for New Clients: Subject to existing Opening Balance Requirement of the Product type opened 

 

Participating outlets: All PBCOM Branches, nationwide


 

How to join: New and/or existing Individual clients of PBCOM who wish to participate in 2020 Raffle CASA Promo for individuals must grow their Average Daily Balance (ADB) by at least: PHP20,000 every month to qualify for the  monthly draw. Every PHP20,000 ADB growth will earn 1 raffle entry for existing clients and 2 raffle entries for new clients. A fraction of the above-mentioned ADB growth will not earn an entry. To illustrate:


 

Actual ADB Growth of the client refers to the total ADB growth of ALL PESO SAVINGS & CHECKING accounts linked to the client's Customer Information File No. or CIF No. 


 

Prizes: 20 winners of PHP20,000 S&R Gift Checks (GCs) for each Monthly Draw;  Schedule of draws and prizes are as follows:


 

Raffle draws will be held every 2nd week of succeeding month at PBCOM Tower, Ayala Avenue corner V.A. Rufino, Makati under the supervision of the Department of Trade and Industry (DTI).  Winning raffle entries will be drawn via the PBCOM electronic raffle system or randomizer.


 

Winners will receive PHP20,000 worth of S&R GCs to be sent to their branch of account. Branch of Account will contact client within five (5) banking days from draw date.


 

GCs are not convertible to cash.


 

For the monthly draw, Client can win only once in a particular month but can win again on succeeding month/s.


 

Unpicked raffle number for each draw will still be qualified on the succeeding draw/s.


 

Account/s of the winning raffle entries must be active during the time of raffle draw.


 

Period of claim of prizes: Within 180 calendar days from date of raffle draw.  Unclaimed prizes within the said period will be forfeited in favor of PBCOM with prior approval from the DTI.


 

Notification of winners: Thru e-mail, call, text/SMS and registered mail.


 

How to claim the prize: Client/Client's representative shall claim the prize in their Branch of Account.


 

For joint accounts, prizes may be claimed by any one of the co-depositors


 

All employees, Management and Board of Directors of PBCOM and their relatives up to 2nd degree of consanguinity or affinity are disqualified to join.
 

PBCOMs decision

with regards to promo mechanics, winners and prizes with the concurrence of DTI will be deemed final.
DTI Fair Trade Permit No. FTEB-04929 series of 2020