PBCOM's Financial Consumer Protection Program
PBCOM is determined to delight our customers with responsiveness. This is especially true with our vision "to be the most preferred and trusted financial partner through generations". With our clients at the heart of everything we do, we ensure that we nurture our relationship with them.
PBCOM provides "an enabling environment that protects the interest of financial consumers and institutionalizes the responsibilities of all stakeholders." The provisions in the BSP Circular No. 1160 on Consumer Protection have already been complied with by PBCOM.
PBCOM Customer Protection and Experience Division
The PBCOM Customer Protection and Experience Division is continuously working on reviewing and improving our programs for financial education, fair treatment of all stakeholders, client complaint handling, and risk management.
Our clients have the right to expect implementation of the most appropriate safeguards ensuring the confidentiality, integrity, and availability of their financial transactions, as well as expect that all relevant personal information lawfully disclosed in the course of a transaction, are kept confidential and are secured.
RIGHT TO SECURITY AND FRAUD PREVENTION
We have implemented control systems to ensure secure and consistent banking transactions, whether through the branches or through digital channels. This is to safeguard our clients from security threats such as financial and personal identity theft. The risk of compromised cards and data thru illegal skimming devices is controlled by regularly checking PBCOM ATMs.
Fraud-related concerns should be given utmost priority and should be resolved within a reasonable time commensurate to the complexity of the circumstances.
We provide our customers with the following different channels to file your complaints and concerns:
Email: customercare@pbcom.com.ph
Customer Care hotline: 87772266
Facebook: PBCOM
PBCOMobile/PBCOM Online Platform (POP)
SMS: 0922 1101332
A self-service platform where customers can immediately block their ATM Cards in the event of unauthorized transactions is also available. Empowering our customers to protect their accounts as well
RIGHT TO DATA PRIVACY AND PROTECTION
PBCOM enhanced the verification process across varied channels to protect our clients from theft of personal information. Processing of transactions adds a more secured verification and several layers of positive identification before assisting clients with their concerns.
As for sharing information, our clients have the right to opt out from our list of recipients of marketing or promotional material, and for solicitation of feedback as part of preserving their preference to privacy and confidentiality.
Our customers can easily opt out by sending an email to customercare@pbcom.com.ph or dataprivacy@pbcom.com.ph.
RIGHT TO EQUITABLE AND FAIR TREATMENT
Our clients shall not be discriminated against the basis of race, age, financial capacity, ethnicity, origin, gender, disability, health condition, sexual orientation, religious affiliation and practice, or political affiliation.
We ensure that we have existing mechanisms to safeguard your interest which exhibits ethical staff behavior and equitable terms and conditions.
RIGHT TO DISCLOSURE AND TRANSPARENCY
With the continuous innovation of our products and services, PBCOM makes them accessible, understandable, clear and accurate by ensuring that all necessary and relevant information are available to our clients. Nevertheless, our clients have the right to be adequately educated regarding features, terms, systems and procedures, and inherent risks of bank products and services, including his responsibilities, and the right to be protected against fraudulent, dishonest or misleading advertising, labeling, or promotion, and to seek redress for misrepresentation, breach of contractual obligations, shoddy goods or unsatisfactory services.
Our branch personnel and Contact Center are trained to talk about financial matters, our products and services, and its risks so our clients can make informed decisions. They are also equipped with the knowledge and IT-supported technical capabilities to advice our customers on fraud prevention and other security measures, as well as procedures of reporting such cases and card-related concerns.
Advisories on information security threats are also being communicated to our clients through the website, social media, email announcements, ATM Advertisements and branch merchandising materials.
For any concerns, visit your branch of account, or contact the PBCOM Customer Contact Center at Tel No. 8777-2266 (Metro Manila) 1-800-10-777-2266 (Domestic Toll-Free) or the BSP Financial Consumer Protection Department at Tel No. 8708-7087.
CLIENT ASSISTANCE MANAGEMENT SYSTEM
At PBCOM, we make sure that clients' concerns, requests and commendations are properly handled and given feedback.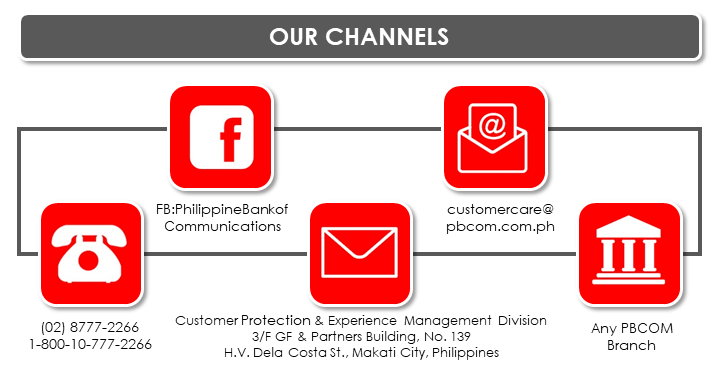 Help us serve you better by completing this quick survey:  https://bit.ly/PBCOMFEEDBACK