Data Privacy
PBCOM is steadfast in preserving the confidentiality and integrity of all collected Personal Identifiable Information (PII) and/or Sensitive Personal Information (SPI) from clients. The Bank shall continuously protect the privacy of client's PII and/or SPI against unauthorized disclosure and modification.
This notice would explain to all existing and potential PBCOM clients how the Bank collects PII and/or SPI, and how these are used in data processing.  The adopted security measure is in compliance with the minimum provisions set forth under the RA No. 10173 and its IRR.
INFORMATION COLLECTION
The Bank collects Personal Identifiable Information (PII)/Sensitive Personal Information (SPI) and financial data strictly in accordance with the minimum provisions prescribed under the Data Privacy Act of 2012 and its IRR for the purpose of processing banking transactions.  PII/SPI collected may include: 
Identification and contact details;

ID issued by any government body, agency or entity;

Medical or health information;

Financial or payment information; and

Information to provide products and services.
We collect client's PII and/or SPI through the accomplished form/s required by the Bank, telephone calls, emails, and other means of communication.
When logging on to our corporate website, social media, and other online banking channels, we likewise receive your personal computer Internet Protocol (IP) address which would disclose information about your browser and operating system, among others.
 
 
USE OF INFORMATION
 
Upon collection, the bank may use the PII and/or SPI for any of the following purposes: 
 
To process application and other requests:

To provide servicing and support; and

To research and conduct data analytics to improve services.
USE OF INFORMATION FOR MARKETING PURPOSES  
To our existing and potential clients, we may use your contact information to advise you about our sales distribution channels, new products, and other updates. To the extent allowed by law or provided consent for such purposes, we may likewise offer feedback solicitation and marketing communication materials.
 
Opting out:  If you would like to be excluded from our list of recipients of marketing  or promotional material, and for solicitation of feedback, kindly email customercare@pbcom.com.ph  or call (02) 8777-2266 or our Domestic Toll-Free 1-800-10-777-2266 from 8:30 AM to 5:30 PM, Monday to Friday.
 
SAFEGUARDING YOUR INFORMATION
 
The confidentiality and integrity of provided PII and/or SPI is our top priority. We shall continuously protect the information collected by maintaining a combination of physical, technical and administrative control measures based on generally accepted standards and leading practices on data privacy. 
 
Whenever our clients visit our corporate website or log on in any of our online channels to share PII, the Bank puts in a secure communication line via Secure Socket Layer (SSL) and other related technical controls that are behind a firewall to safeguard all passing information. The Bank also ensures regular review on information collection, storage, and processing practices to guard against unauthorized access, alteration or disclosure to our systems.
 
 
INFORMATION RETENTION
 
All collected PII and/or SPI from our clients enable the Bank to properly manage and service your banking needs in the best way possible. The Bank shall continuously keep these information as accurate as possible for the duration of your relationship with the Bank and/or until the expiration of the retention limit set by laws for closed accounts. 
 
 
SHARING OF INFORMATION
 
Your PII and/or SPI shall be shared among PBCOM subsidiaries and/or affiliates. The list of subsidiaries could be found on www.pbcom.com.ph.
 
PBCOM shall not share your PII and/or SPI to any third-party without client's explicit consent or unless required by existing law.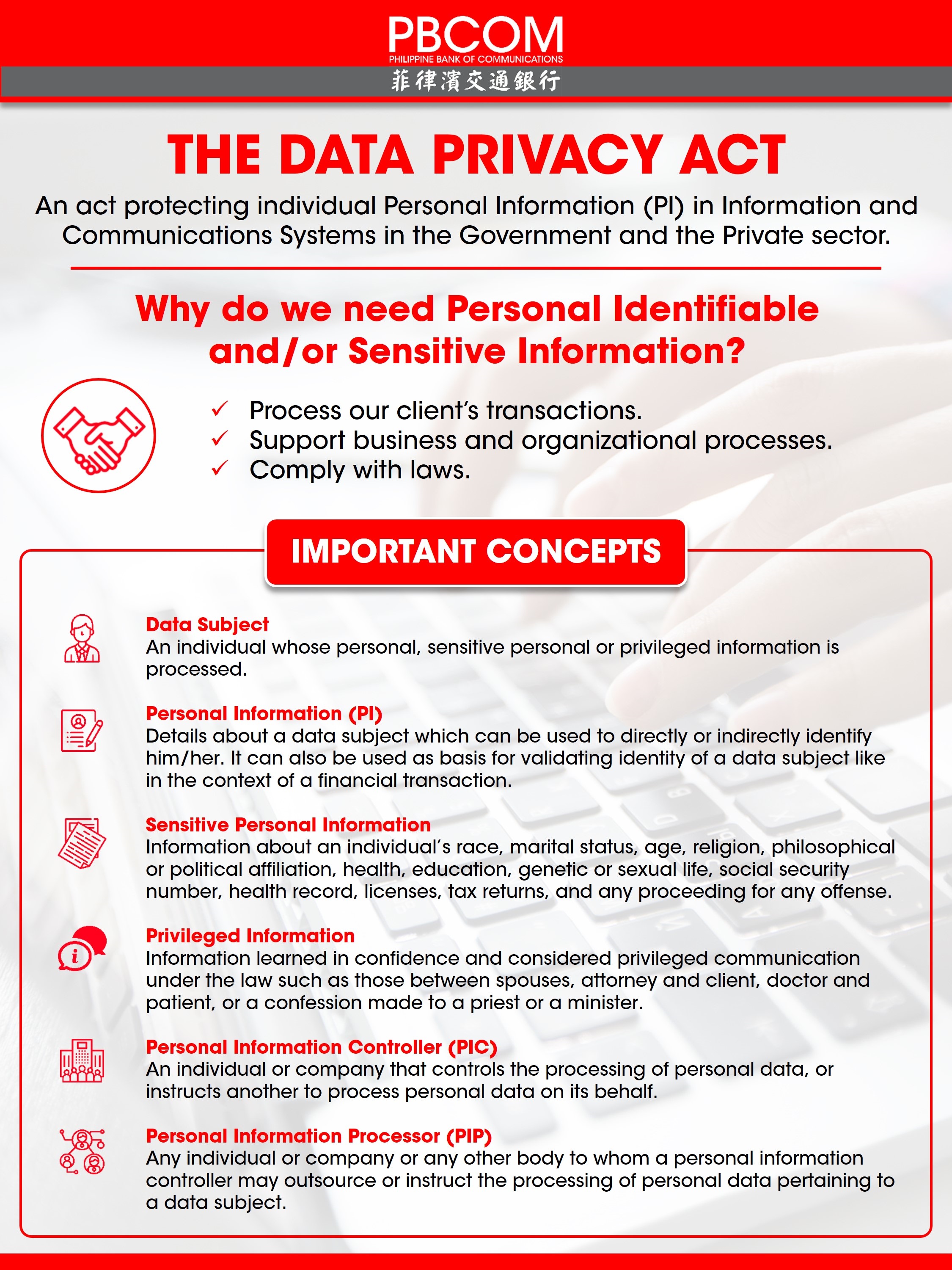 YOUR RIGHTS
PBCOM clients have the right to access, correct, request for deletion, or object to the processing of your PII and/or SPI, subject to the limitation imposed by RA No. 10173 and its IRR. The Bank shall, at all times, respect client's request related to PII and/or SPI in accordance with applicable laws, rules and regulations.
YOUR ROLE
Protect your information. We encourage you to be vigilant in protecting your personal data by ensuring that your account details, PINs, username and password are not disclosed to others nor written somewhere where it will be accessible to others. We also advise you to keep software/s updated, and to use strong passwords that should be changed regularly.
Use secure means to communicate with us. You can contact us through our website, branches, official Facebook page and Contact Center. Rest assured that the information coursed through these channels are protected by the security of our systems.
Report any data breach. If you think that your personal data was mishandled in terms of confidentiality or integrity, or if someone tampered with your personal data without your consent, do not hesitate to contact our Data Privacy Officer.
CHANGES TO OUR PRIVACY NOTICE
In highly meritoriously cases, the Bank may update or modify this Privacy Notice pursuant to changes in the IRR of data privacy, improvements in the security technology or consumer requirements.
Data Privacy Policy and Notice
For further inquiry and concern on your information and/or how we process your personal data, you may contact our Data Privacy Officer through the following:
Data Privacy Officer
3/F GF and Partners Building 139 H.V. Dela Costa St.
Salcedo Village Makati City, Philippines 1227
dataprivacy@pbcom.com.ph