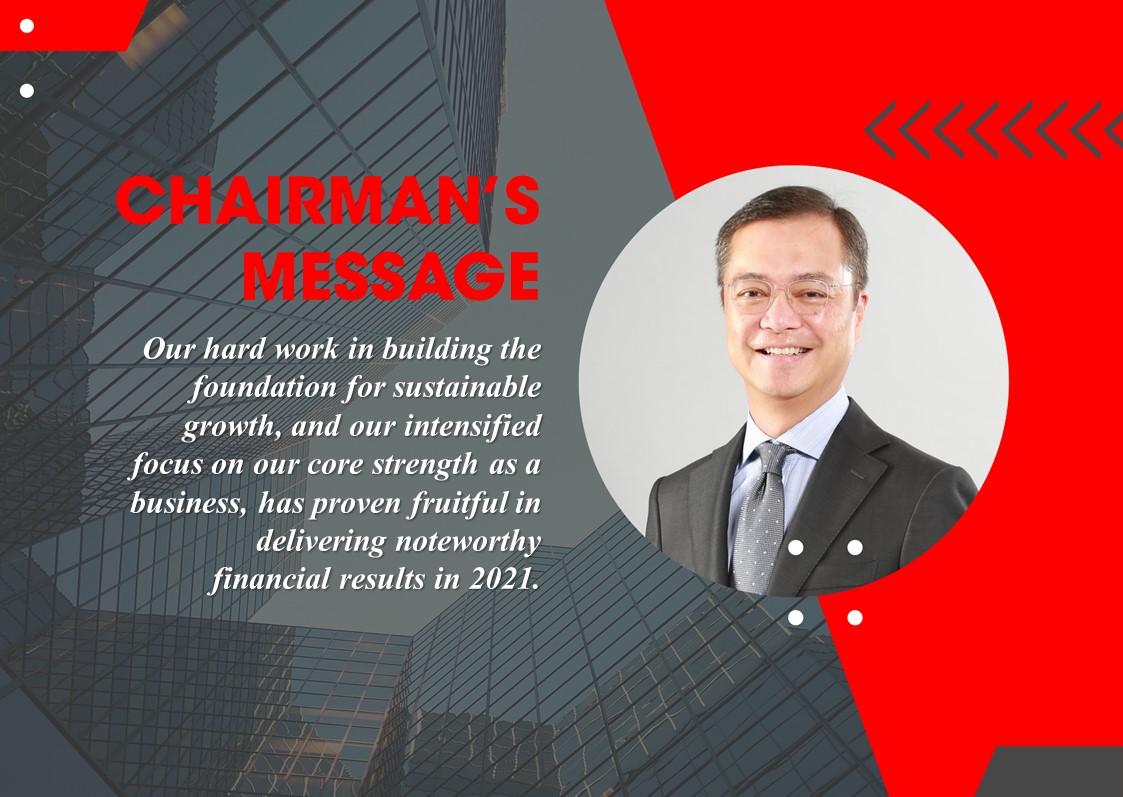 To my fellow Shareholders,
Navigating around the COVID-19 crisis has been a difficult challenge we had to face in 2021. Many businesses had to adapt to the added challenges of a constantly changing landscape of consumer and market behavior. The need to find opportunities despite the setbacks had been the driving force for many businesses, including your Bank, PBCOM.
Our hard work in building the foundation for sustainable growth, and our intensified focus on our core strength as a business, has proven fruitful in these especially trying times. We are glad to share with you, notable financial results for the year 2021, a 34.6% increase in net income versus previous year amounting to P1.57B. This is the highest since the entry of the Lucio Co Group in 2014.
This has been made possible by the hard work of your entire PBCOM team. Together, we have implemented sound governance, strengthened processes and controls, ensured security and safety, and reshaped the customer journey.
IMPLEMENTING SOUND GOVERNANCE
Amidst an evolving business landscape, the Board and Board-mandated committees have ensured that the Bank is compliant to relevant policies, rules & regulations, and that risks remained within defined bank appetite.
STRENGTHENING PROCESSES AND CONTROLS
We have embraced alternative work arrangements for non-branch personnel without sacrificing productivity and integrity, thereby ensuring a business-as-usual stance despite the alert restrictions imposed.
ENSURING SECURITY AND SAFETY
With the prevalence of fraud and other threats whether physical or online, we have proactively addressed and reduced the possibility of dangers to our customers who have put their trust on us.
RESHAPING THE CUSTOMER JOURNEY
With PBCOM values of PRIDE guiding our organization, we have adapted a digital approach to communications to keep both our employees and our customers engaged, productive and well informed. This required innovation, creativity and continuous development of new business models.
All these would not have been possible if not for the team work and dedication of the Bank's Board, management and staff, our team members who worked efficiently and effectively the past year despite the challenges brought by the pandemic. Further, my sincere appreciation for our shareholders and customers for the continued support, trust and confidence in your Bank.
As we look ahead to the future, we are committed to continue to deliver optimum results. By the end of 2021, we were preparing to submit to BSP our request for approval to upgrade our license to a Universal Banking License. The license upgrade will allow us to pursue plans to broaden our product and service offerings.
PBCOM's steady growth the past years that began with the entry of the Lucio Co Group in 2014 has been noteworthy. We now have a solid capital base from which we can expand our banking services in order to serve the needs of our valued customers. Most definitely, we are all excited about this new chapter in our history.
Eric O. Recto, Chairman