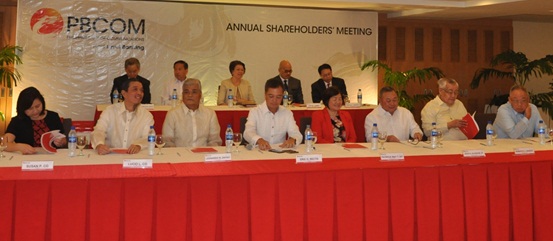 The Philippine Bank of Communications (PBCOM) held its Annual Shareholders' Meeting on June 9, 2015 and disclosed its financial results for 2014.

The following financial highlights were reported: 
PBCOM ended the year with a net income of Php 111.5Mn, despite lower trading and securities gains and its successful exit from its Financial Assistance Agreement with PDIC where the Bank paid back its Php 7.6Bn loan in full.
Deposits grew by 25% to Php 59.11Bn, attributed to the Bank's branch network expansion as well as more active sales efforts of its branches within their respective trade areas.
Loans and receivables improved by 34% to Php 33.55Bn as a result of the Bank's renewed sales efforts both on the Consumer and Corporate Banking fronts.
In its report, PBCOM also highlighted the entry of Mr. Lucio Co as the Bank's strategic investor upon BSP's approval of P.G. Holdings, Inc.'s investment in the Bank in September 2014. This investment will bring in Php 5.98Bn in fresh capital and will complement PBCOM's efforts to thrive in the SME Banking space. The Bank is currently focused on building its capabilities in order to leverage the more than 3,000 suppliers and 300,000 loyal customers of Puregold Price Club Inc. and Cosco Capital Inc. 
The bank also elected its Board of Directors for 2015-2016:
Eric O. Recto – Chairman
Leonardo B. Dayao – Vice Chairman
Patricia May T. Siy – President
Bunsit Carlos G. Chung
Lucio L. Co
Susan P. Co
Carmen G. Huang
Ralph C. Nubla, Jr.
Patrick Sugito Walujo
Gregorio T. Yu
David L. Balangue – Independent Director
Jesus S. Jalandoni, Jr. – Independent Director
Levi B. Labra – Independent Director
Roberto Z. Lorayes – Independent Director
Emmanuel Y. Mendoza – Independent Director
PBCOM noted in its management report that "2014 was a very important year for PBCOM. [The Bank] strengthened [its] brand and put in place a foundation for future growth." The Bank also stated that it is "more than prepared to meet the challenges of 2015. The entry of Mr. Lucio Co as an investor fortifies [PBCOM's] capital position and also presents a most exciting opportunity to further grow [the Bank]. The PBCOM team is fully committed to unveiling several new products and platforms within the year, further delivering on [its] promise to optimize shareholder value."