2022 has been a great year for PBCOM eco warriors as the Bank continues to strengthen its efforts, in its simple ways, to help make our Mother Earth a better place to live in.
We continue to help raise awareness among PBCOM employees on the importance of recycling, upcycling, and general waste management. Through our "Ayaw Ko Ng Plastic" campaign, PBCOM has regularly been sending digital messages to all employees through email and facebook on how important it is to reduce the use of plastic for our environment. Also, PBCOM continues to actively remind the employees that the use of single use plastics is discouraged within bank premises.

PBCOM's thrust to help alleviate the problem on plastic pollution does not stop in online reminders and releases. The Bank has set-up plastic drop off points in its head offices in PBCOM Tower, The Peak, GF & Partners Building, and Binondo Banking Center. These drop off points are accessible to all employees where they can surrender their used plastics. Instead of simply disposing them, these plastics are cleaned, dried, and are turned over to GreenAntz for processing. These plastic wastes are turned into eco casts and bricks used for construction.
In June of 2022, PBCOM has turned over more than 100 kilos of plastic wastes for processing. As an estimate, after processing, this amount of collected plastic translates to about 750 eco casts or bricks which are used as an alternative to hollow blocks during construction of buildings and pavements.

Apart from the "Ayaw Ko Ng Plastic" campaign, PBCOM also actively participates in environmental projects like tree planting and clean up drives. The management of PBCOM strongly encourages all branches to participate in their local government initiatives for the environment. This has been warmly received by the branches nationally, and they have reported a number of activities they have participated in.
Institutionally, the Bank has partnered with an NGO, La Liga Mariquina in their various socio-economic and environmental programs. As part of this partnership, the Bank joined the Tree Planting & Clean-up Program for the Marikina River Ecosystem called "Luntiang Marikina" initiated by La Liga Mariquina, co-sponsored by the city Government of Marikina and  the Department of Environment and Natural Resources National Capital Region Office (DENR-NCRO).
Led by our President & CEO Ms. Patricia May Siy, more than 100 eco-warriors, employees, and their families joined in the planting of 40 assorted fruit bearing trees such as Avocado, Balitbitan, Palawan Cherry, Cashew, and Langka; and cleaning up a few kilometer stretch of the riverbank.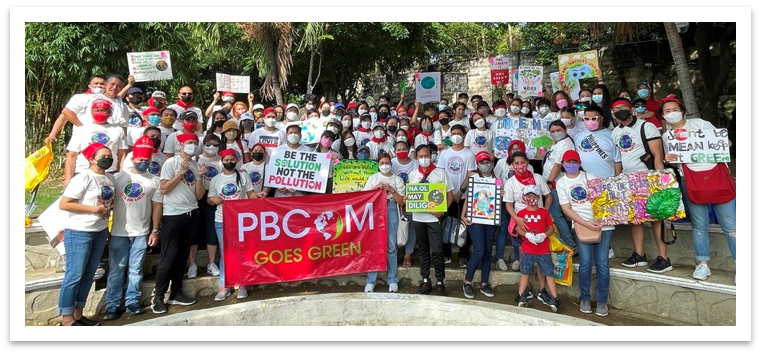 "With this, and several other initiatives of PBCOM to GO GREEN, we, as an institution, hope to help lessen the worldwide problem on waste management, and in our little way contribute in making this world a better place to live in" – Patricia May T. Siy, PBCOM President and CEO.