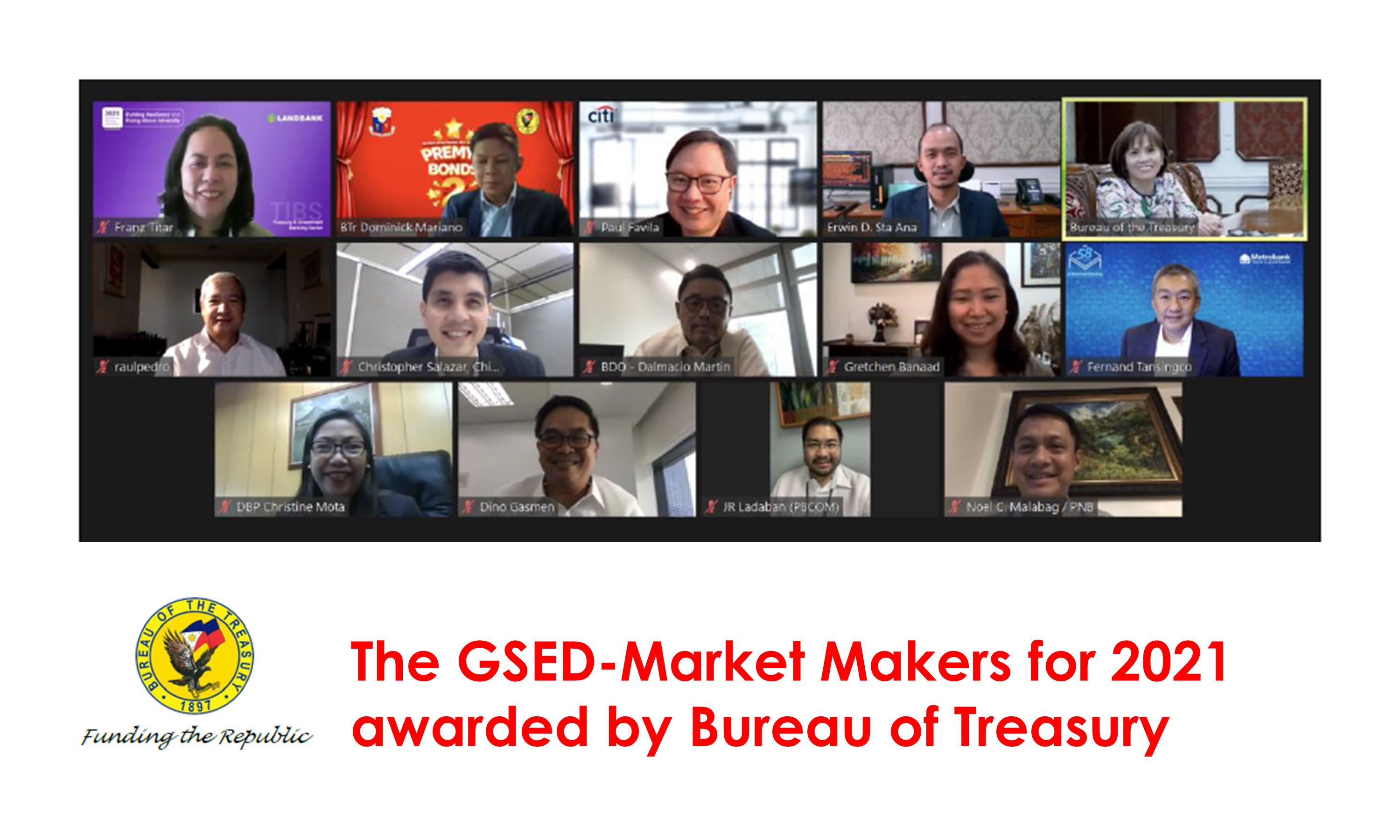 PBCOM was recognized as one of the Bureau of Treasury's GSED-Market Makers for the year 2021 during the 123rd founding anniversary of the Bureau held last November. During the virtual awarding ceremony, National Treasurer Rosalia V. De Leon congratulated the GSED-Market Makers and acknowledged their efforts in helping the National Government meet its financing requirements and supporting the initiatives of the Bureau of Treasury to enhance the access of Filipinos to investment opportunities even amidst the headwinds brought about by the COVID-19 pandemic.
As commented by PBCOM's Treasurer, Mr. Alan Atienza, "We are grateful to be part of the Bureau of Treasury's Enhanced GSED Market Maker program for 2021. Our efforts to be a significant player in the GS Market are being recognized and PBCOM will remain committed to keeping our Market Maker status through our participation in the fund raising initiatives of the BTr and through our active presence both in the Primary and Secondary markets."
The Enhanced Government Securities Eligible Dealers (GSED) program which started in 2017 aims to promote depth and liquidity in the primary and secondary Government Securities (GS) market as well as support the capital market development initiatives of the Bureau of Treasury. GSEDs that have shown capacity and commitment to support the development of the domestic GS market have been evaluated by the Treasury and selected as Market Makers.
For the year 2021, the GSED-Market Makers are: Banco De Oro Unibank, Inc., Bank of the Philippine Islands, China Banking Corporation, Citibank N.A., Development Bank of the Philippines, First Metro Investment Corporation, Land Bank of the Philippines, Metropolitan Bank & Trust Company, Philippine Bank of Communications, Philippine National Bank and Security Bank Corporation.